Holbox Island
The Hidden Paradise of the Mexican Caribbean
Have you already heard of Holbox? A paradisiacal island in the Mexican Caribbean where you can walk along its shallow beaches for several kilometers, where you can disconnect from technology, and where, without a doubt, you will enjoy every moment you spend here.
Is it your first time visiting the island? Well, don't worry about it, and right now, get to know all the information we have about Holbox. Information that will help you understand how to get there, will assist you in knowing the ferry prices, will aid in planning your travel logistics, and of course, information that will help you choose your hotel, your tours, your transportation, and even where to eat on the island.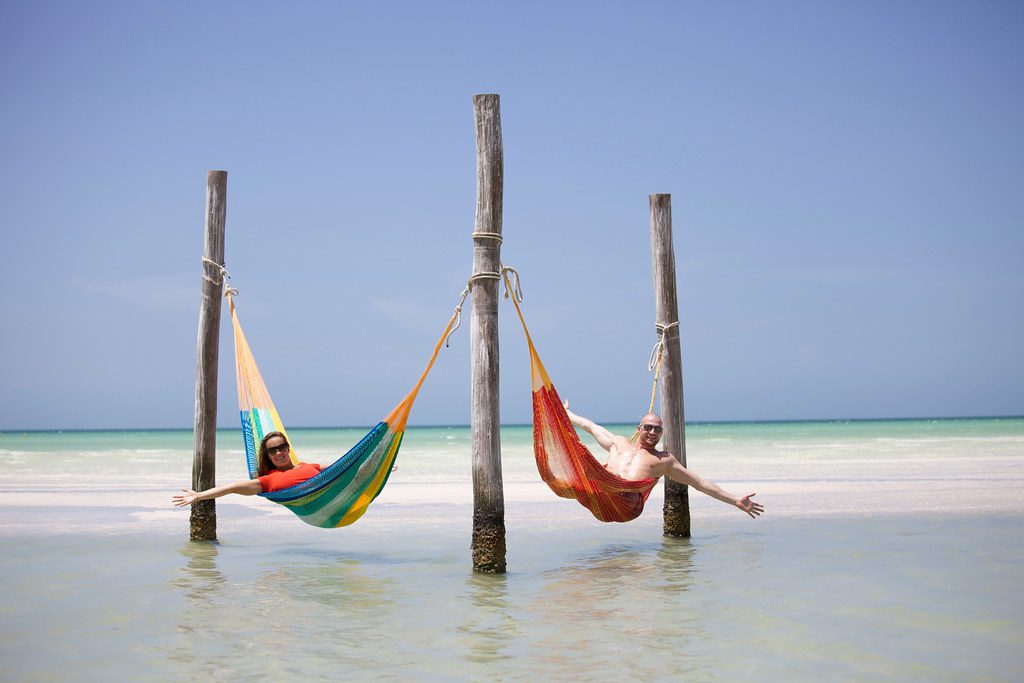 Discover Holbox
Where is Holbox located? Holbox is a small island situated in the state of Quintana Roo, Mexico, approximately 80 kilometers north of Cancún and 12 kilometers off the mainland coast. It is an island
The island is renowned for its white sandy beaches, crystal-clear waters, and laid-back atmosphere.
Holbox is a relatively untouched island with moderate tourism development. The island is primarily inhabited by fishermen and their families.
Furthermore, Holbox Island is a sanctuary for sea turtles, which come to nest on the island during the nesting season (from May to October). The island is also an excellent spot for birdwatching, with over 150 species recorded in the area. If that's not enough for you, you should know that Holbox Island is one of the few places in Mexico where you can live the experience of swimming with whale sharks and witness the incredible bioluminescence effect on its beaches.
Moreover, Holbox offers a variety of activities for visitors, including
Swimming, snorkeling, and diving: Holbox's clear waters are ideal for water sports.

Birdwatching: The island is an excellent place for birdwatching, with over 150 species recorded in the area.

Hiking: Holbox has a series of trails that crisscross the island, offering panoramic views of the area.

Fishing: Holbox is an excellent fishing destination. Visitors can rent a boat for deep-sea fishing or explore the island's mangroves.

Biking: Holbox is a flat island, making it ideal for exploration by bicycle.
Holbox is an ideal destination for travelers seeking a quiet and relaxed place to enjoy the natural beauty of Mexico.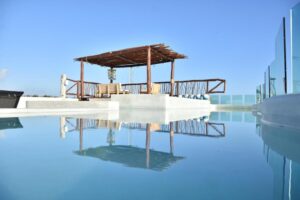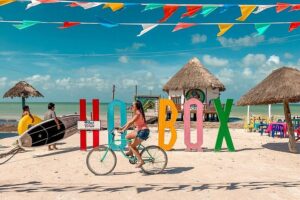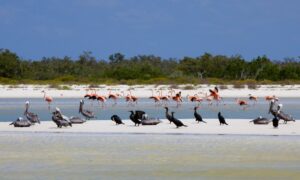 Chiquila, your first stop to paradise
Where is Holbox Island located? Holbox Island is in Mexico, specifically in the state of Quintana Roo, and is part of the municipality of Lázaro Cárdenas. And its location? Well, the island is situated in the Caribbean Sea, northeast of the city of Cancun.
Caribbean Sea, Caribbean Sea, Caribbean Sea... And in this equation, the town of Chiquila comes into play. Chiquila, a charming coastal town, is the gateway to this Caribbean paradise. Strategically located on the coast of Quintana Roo, Chiquila is the ideal starting point to explore the beautiful Holbox Island. From here, you can embark on a short ferry journey that will take you to the white sandy beaches and crystal-clear waters that characterize Holbox. So, start your adventure in the Mexican Caribbean from Chiquila, your first stop to paradise!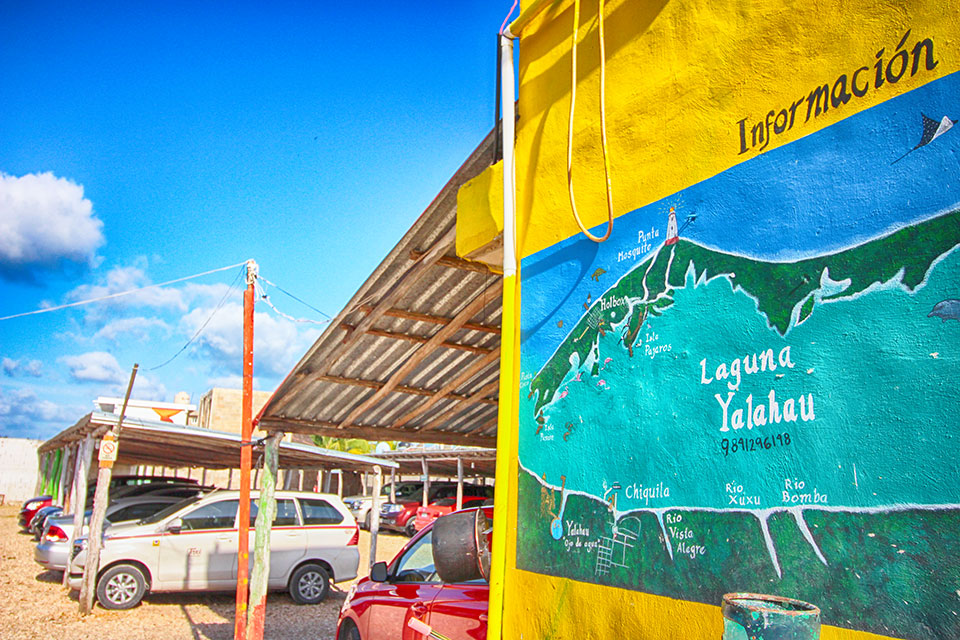 Travel guide to Holbox
Wondering how to get to Holbox or where this island paradise is located? Interested in finding out if there is public transportation or how much money to bring? Maybe you are considering traveling in your own car or exploring options for private transfer services. All these questions and more will be answered in our complete travel guide to Holbox. This guide is essential for those planning to visit this stunning jewel of the Riviera Maya, as it will provide you with answers to virtually all your questions before you venture to this amazing destination.
Parking in Chiquila
If you've decided to embark on your journey to the Caribbean paradise of Holbox, Mexico, and you're traveling in your own car or a rental, you should know that you don't have to worry about a thing. The town of Chiquila has several parking lots that charge between 50.00 MXN and 150.00 MXN per day.
What does this mean for you? It means you can rest easy when visiting Holbox, Quintana Roo, in your own car or rental. But which parking lot should you choose? That depends on you; there are several options that you can explore in our section on Holbox Parking.
P.S: Before you ask, it's necessary to tell you that YOU CANNOT BRING THE CAR onto the island; it is completely prohibited, and the only vehicles there are golf carts.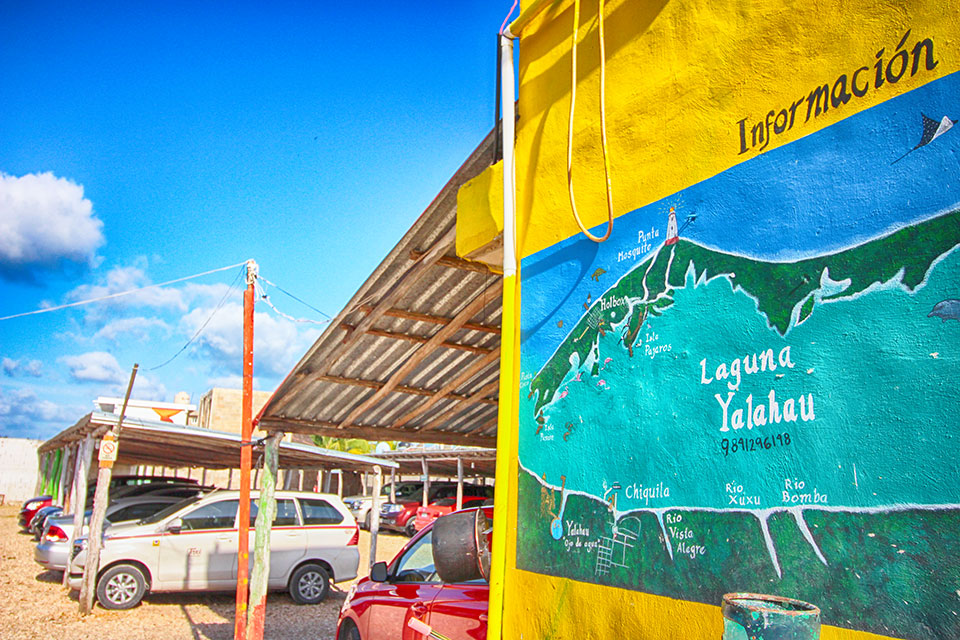 Private Transfer to Holbox
Want to make your visit to the beautiful island of Holbox as straightforward as possible? Although Holbox isn't far from Cancun, getting there can feel like an odyssey.
It's important to remember that, while Holbox is close to the Riviera Maya, it's not part of it geographically. This means that, to reach the island, you have three transportation options: private transfer, public/shared transportation, or car rental.
Among these three alternatives, the private transfer service stands out as the most convenient option to get to Holbox without worrying about the departure schedules of public or shared buses. Additionally, it frees you from the hassle of dealing with paperwork and expenses associated with renting a car. If you're already convinced, you can book your private transfer to Holbox immediately. For more details, click here. This way, your journey to this beautiful island will be more straightforward and hassle-free.
Chiquila, as such, is not the final stop to reach Holbox Island, Mexico. The last step is the journey from the port of Chiquila to the island, and this is done through a maritime ferry (Ferry, for friends).
The cost of the ferry is 440 Mexican pesos, and if we consider that at its best, the US dollar reached a value of 20 MXN, the cost of the ferry is approximately 25 USD.
This cost refers to a round trip (Round Trip). Although there is the option to only pay for a one-way trip (One Way or One Way), which costs 220 Mexican pesos or approximately 12 USD.
Why would you pay for only a one-way trip? Remember that the ferry is not the only way to get to Holbox from Chiquila, as the island has a small space that serves as an airport and allows the arrival of small aircraft. So if it's within your economic means to "fly and enjoy the scenery from the skies," who are we to tell you no?
Is Holbox Quintana Roo Pet-Friendly?
The answer to this question is a "more or less." In theory, the entry of animals is not allowed on the island, as they can pose a risk to wildlife and other aspects. However, because Holbox is a tranquil island, surrounded by calm waters, fine sandy beaches, and is a popular destination for travelers who want to enjoy with their beloved furry companions, an unofficial "Pet-Friendly" culture has emerged.
What does this mean? It means that you can travel to Holbox Island with your pet, and you'll be surprised to discover that most hotels, accommodations, restaurants, and even tour operators are pet-friendly.
Even some beaches allow your animals to enjoy the refreshing waters and fine sandy beaches. However, it's important to note that there are areas, such as the mangrove zone, where it is STRICTLY PROHIBITED to bring your pets. To maintain this unofficial "Pet-Friendly" culture and ensure that the island remains a friendly place for animals, it is essential for each owner to be responsible: they must take care of their pet, ensure that it does not cause harm to the flora and fauna, and, above all, preserve the natural beauty of the island.
Hotels in Holbox
Despite being a virgin island, the island of Holbox has a varied offer of 5 star, 4 star, 3 star hotels, cabins, camping, echo hotels and much more. Some of these hotels are in front of the sea, others are less than 2 to 5 minutes away from it and of course, some others have a rooftop and infinity pools.
So enter right now to our Holbox hotels section and find the best lodging for you or select one of our offers and promotions of today.
Biodiversity of Holbox
Holbox, a wildlife paradise, harbors a unique diversity in every corner of its territory. From majestic marine creatures to the exuberant flora that adorns its landscapes, the island is a testament to its natural richness.
Interested in exploring this unique ecosystem? Click here and immerse yourself in the natural world of Holbox. Step into a journey where every detail tells the story of a perfect balance between land and sea, creating a sanctuary for wildlife in all its splendor.
Explore the secrets of the turquoise waters and mangrove forests, home to migratory birds and endemic species that add a magical touch to this paradise.
Dare to discover the natural wonder that is Holbox! At every step, you will witness the harmonious coexistence between the local community and nature, a symphony of sustainability that makes Holbox an exceptional destination for wildlife lovers and explorers in search of authentic experiences.
And don't forget that if you take your pet to visit the island, you always have to be careful not to disturb or harm the animals and plants that are part of the flora, fauna, wildlife and marine life of this wonderful island of Mexico.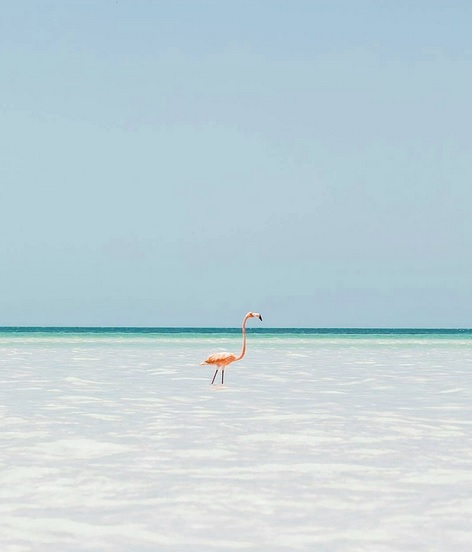 Holbox Videos
Explore the beauty of Holbox through these fascinating videos collected from talented creators on YouTube. Immerse yourself in the serenity of its landscapes, the richness of its fauna and the authentic essence of this Caribbean island. Discover Holbox from the comfort of your screen and let these videos inspire you to plan your next adventure.
Holbox Gallery
Fall in love with Holbox Quintana Roo now! Explore Holbox through our captivating image gallery. Each photo tells a unique story of the island, from the sun-drenched beaches to the vibrant sunsets. Immerse yourself in the visual richness of Holbox and let yourself be carried away by the magic that only these images can capture. Get ready for a visual journey that will awaken your desire to discover every corner of this Caribbean paradise.
Is it safe to travel to Holbox?
In general, Holbox is a safe tourist destination with a low crime rate and a well-equipped local police force to respond to emergencies. However, as in any place, it is essential to follow basic safety precautions, such as avoiding walking alone at night and taking care not to leave valuables unattended.
What to do in Holbox with children?
Holbox is perfect for families with children, offering beautiful beaches, crystal-clear waters, and a variety of activities for all ages. You can enjoy the beach, visit the flamingo sanctuary, explore the Yalahau cenote, explore the natural park, among other options.
What to do in Holbox as a couple?
Holbox presents itself as an ideal romantic destination for couples, with beautiful beaches, crystal-clear waters, and a variety of activities. From romantic beach walks to unique experiences such as observing bioluminescence, visiting the Yalahau cenote, exploring the natural park, staying in an adults-only hotel, or discovering Punta Mosquito, going for a bike ride, getting a massage, and many other options to enjoy together.
What to do in Holbox alone?
Holbox is accessible and welcoming for solo travelers. The island offers charming beaches, crystal-clear waters, and a variety of activities for solo travelers. From relaxing on the beach to exploring the flamingo sanctuary, visiting the Yalahau cenote, exploring the natural park, snorkeling, horseback riding, or simply enjoying the sunsets, there are many experiences for solo travelers.
When is the best time to visit Holbox?
The ideal time to visit Holbox is during the dry season, which runs from November to April. During this period, the weather is warm and sunny, providing perfect conditions to enjoy everything the island has to offer.
What is the best beach in Holbox?
The best beach in Holbox is Playa Holbox, located in the center of the island. It is a white sandy beach with crystal-clear waters, perfect for swimming, snorkeling, and sunbathing.
How is the nightlife in Holbox?
Nightlife in Holbox is relaxed and bohemian. The island features a variety of bars, nightclubs, and clubs offering live music, DJs, and parties.
What are the best places to see flamingos in Holbox?
The best places to see flamingos in Holbox are Punta Mosquito and Punta Holbox. These beaches are important habitats for pink flamingos, which can be observed throughout the year.
What are the best places for diving and snorkeling in Holbox?
The best places for diving and snorkeling in Holbox are Cayo Holbox, Cayo Chiquito, and Cayo Pájaros. These islands offer a diverse marine life, including tropical fish, corals, and sea turtles.
What are the best places for camping in Holbox?
The best places for camping in Holbox are Playa Punta Mosquito and Playa Holbox. These beaches provide a natural and tranquil environment for camping.
What are the best places for fishing in Holbox?
The best places for fishing in Holbox are Cayo Holbox, Cayo Chiquito, and Cayo Pájaros. These islands offer a variety of fish, including sailfish, marlin, and tuna.